Orange, California native Kc Wayland has carried within him a passion for the creative arts from a young age. As a teenager, he earned the Award of Excellence in Arts and Best Student Editor and graduated with top honors from Orange High School Media Arts program for Acting and Film Theory, earning the Principal's Medallion. Upon graduating, he was awarded an academic scholarship to attend Chapman University's School of Film and Television.
In January of 2002, Wayland enlisted in the United States Army, taking a leave of absence from Chapman. He received two certifications in broadcast engineering and was awarded both Top Graduate and Distinguished Honor Graduate. He returned to Chapman in 2003, but was deployed to Iraq midway through his first semester. From 2003 to 2004, Wayland served with the 222nd Broadcast Operations Detachment in the heart of Baghdad. His service earned him a nomination for a Bronze Star for meritorious service. During his time overseas, Wayland filmed his personal experience that would later become the feature-length documentary "365 Boots on Ground."
Wayland returned to Chapman within a month of active combat. During this adjustment period back to civilian life, he focused his energy on completing "365 Boots on Ground." The documentary would go on to earn several awards, including: Best Documentary at Chapman 2005, Best Student Documentary at the Bear Bear Film Festival, and Best Student Film at the Tiberon International Film Festival. He graduated from Chapman in 2008 as valedictorian of his class.
While teaching film production at Costa Mesa High School and Coastline ROP, he began writing what would later become "We're Alive: A Story of Survival." What started off as a means of coping with his military experience, "We're Alive" evolved into a wildly successful and revolutionary zombie audio drama.
Wayland acted as lead writer/editor/director/producer of "We're Alive" on each of the 48 episodes from 2009 to 2014. The rise of "We're Alive" coincided with the booming popularity of podcasts and zombie culture, standing out for its gritty urban realism and focus "theatre for the mind" audio techniques. Its success earned the show a place within the Nerdist Podcast Network, garnering over 50 million downloads in the course of its run. The series was also nominated for and Audie by the Audio Producers Association, and was in iTunes Best of 2012.
A sequel of sorts to "We're Alive: A Story of Survival" entitled "We're Alive: Lockdown" was successfully funded via Kickstarter in July of 2015 raising over $55,000 for the production, and was released in April 2016 to rave reviews.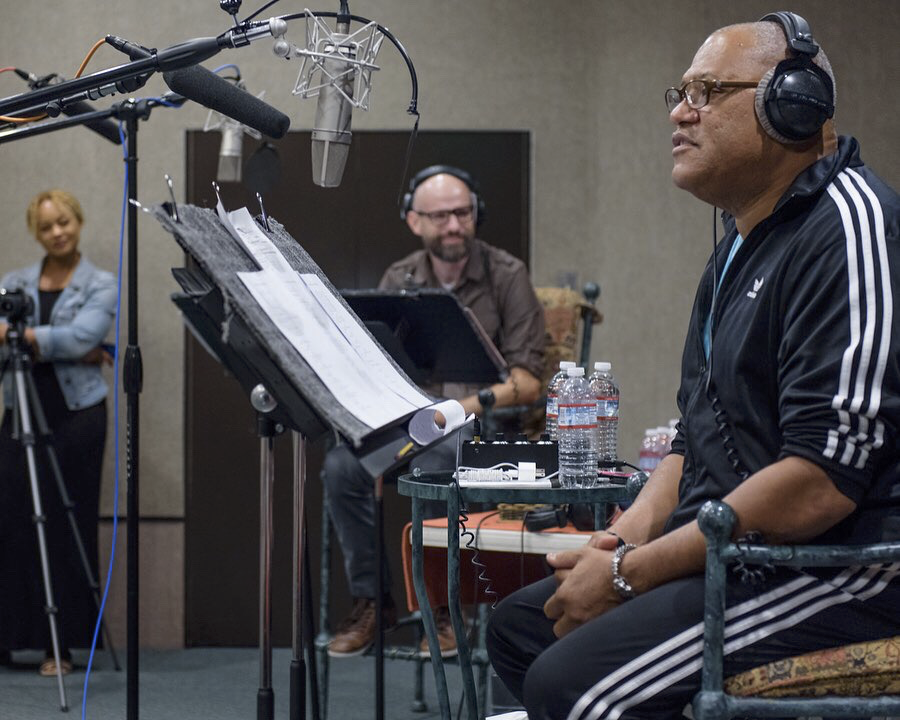 Following the success of "We're Alive," Wayland signed with the Paradigm Talent Agency in February of 2016, and began working on the 10-part audio-theater series, "Bronzeville" starring Laurence Fishburne and Larenz Tate, to name a few from the all-star cast and is currently producing the 2nd season (2019).
Kc Wayland continues to strive towards expanding the audio-drama industry and helping others understand and build on the new art wave that is "Theater for the Mind", continuing to teach new minds as he instructs sound design, storytelling for audio, and audio drama production at Dodge College of Film and Media Arts at Chapman University, and USC School of Dramatic Arts
Blaire Wayland (Also known as Lizzy in the series) recording behind the scenes. I don't really know what I'm doing here…

Back in the old recording studio, only this time with more stations.

Kc directing on the stage with the actors

Nate Geez as Saul Tink recording on the stage.